Adults
Wednesday Prayer Meeting / Bible Study Groups
Every Wednesday at Emmanuel, our members and guests get together for Bible study and prayer. Many of us choose to attend our regular Wednesday Prayer Service, which meets from 6:00-7:00 PM in the Church Sanctuary. During this time our pastor brings a devotional from the Word of God, and we bring our prayer requests unto the Lord, believing that He will hear and answer our prayers.
Others of us participate in a variety of Small Group Men and Women's Bible Studies, which meet in the assigned classrooms of the Family Life Center from 6:00-7:30 PM. Different Bible studies are selected, and a facilitator leads the participants in a group discussion of the material. Through these interactive Bible studies, men and women get to know each other on a personal basis, and they grow together in the grace and knowledge of our Lord Jesus Christ.
Baptist Brotherhood / Women on Mission (WOM)
Men of all ages are invited to join our Baptist Brotherhood, and women of all ages are invited to join our Women on Mission.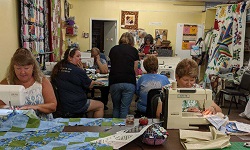 Members of both of these mission-oriented groups in our church come together for regular meetings throughout the year as announced by their directors in our church bulletin. During these meetings, they identify and discuss various mission and service opportunities in our church and community, and they agree to take on certain mission and service projects for the glory of the Lord.
Those who participate in these groups also meet at different scheduled times throughout the year for fellowship and recreation. The times for these meetings will be announced in the church bulletin, and newcomers are always welcome.