Children
God loves children, and so do we!
Jesus said, "Let the little children come to Me, and do not forbid them: for of such is the Kingdom of God." (Mark 10.14, NKJV)
At Emmanuel Baptist Church, we are serious about reaching children for Christ, and we are sure that children of all ages will feel right at home in our church family. Our dedicated and compassionate workers will do all they can to lay a biblical foundation for their lives. Our goal is to see your children fall in love with Jesus, who loved them even before they were born!
Please survey the list of our children's ministries below, and if you would like additional information about the opportunities we have at at Emmanuel for your children to learn about Jesus, please do not hesitate to contact Mrs. Denise Griffin, our Children's Minister, and she will be glad to assist you!

Children's Worship Service
Every Sunday during our Morning Worship Service, children in k4 – 3rd grade, are invited to leave the church sanctuary to attend their own worship service in our Education Building. In this service, we have Bible messages especially designed for them, which include music, crafts, and activities that make the Bible come alive before their very eyes.
TeamKID
TeamKID stands for "Kids In Discipleship" and meets every Wednesday evening throughout the school year, from 6:00 – 7:30 PM. Through this ministry of our church, students who are in the 1st – 6th grades, learn more about Jesus through a balance of high-energy activities and Bible lessons. Scripture memorization is also encouraged, and various service projects are completed. Your children will love TeamKID, and they will want to keep coming back to church again and again.
In addition to these weekly ministries, we offer a number of seasonal ministries as well. Each of these events offers our children a great opportunity to learn the Word of God and have some fun with their family and friends. These ministries include, but are not limited to, the following:
Vacation Bible School
An action-packed week of Bible learning, activities, games, crafts and more!
Summer Camp at Camp Bethany
A fun-filled week of activities combined with worship services designed with kids in mind.
Summer Wednesday Nights
A time for kids to run and play, combined with Bible activities and prayer.
Eggciting Emmanuel Easter Eggstravaganza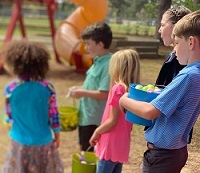 Always the Saturday before Easter, with egg hunts for all ages, games and refreshments – all with an emphasis on our Resurrected Savior!
Fall Fair
At the end of October, we enjoy an afternoon of candy and games for all ages. This church-wide festival is offered as a safe and Christian-based family activity.
Family Night at Christmas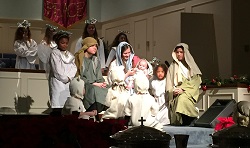 Our families join together on a Sunday evening each December for casual worship and refreshments to celebrate our Savior's birth. We sit around tables and enjoy entertainment by our children's choirs and individual children singing and performing.
As you can see, there are plenty of opportunities for your children to get to know Jesus at Emmanuel, and we would love to partner with you to teach your children the Word of God!