Music
Our church enjoys a blended worship service. We usually sing a mix of traditional hymns, gospel songs, and well-known choruses. Church choir practice begins at 7:00 PM on Wednesdays, and everyone who enjoys singing is invited to come and have a part in the music ministry of the church. Various opportunities to sing solos and participate in musical groups also are available.
Congregational Singing
The congregation is the biggest choir at EBC, and the one God loves to hear the most! Scripture is full of commands to sing unto the Lord and to proclaim His praise. He has done so much for us; how can we contain ourselves and not burst into song? EBC provides plenty of opportunities for congregational singing, including traditional hymns of praise and testimony and newer, contemporary expressions of faith.
Sanctuary Singers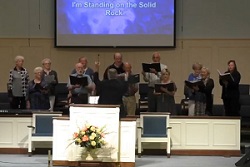 This is our adult choir. They serve as the primary praise team for the morning services. They also sing musicals in the Spring and in December. Membership is open to anyone. They sing a variety of traditional and contemporary arrangements, as well as provide leadership for the congregational singing. Rehearsal is 7:00-8:15 each Wednesday.

Jubilation Ringers
This is a mixed adult group ringing five octaves of handbells. Music reading ability is a must. Substitutes and replacement ringers are needed from time to time. Rehearsal is each Sunday at 5:30.
Senior Adult Choir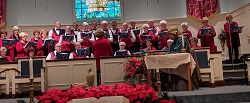 Prime Time Singers is open to anyone of any age, but consists primarily of singers sixty-five and older. They rehearse each Tuesday morning from 10:30-11:30. Prime Time Singers often sing in area retirement centers and nursing homes. They also participate in May-Him, the local Senior Adult Choir Festival, held at Camp Bethany each May, and occasionally in state-wide senior adult choir festivals. They also sing in morning services from time to time. No prior choral experience is required.
Men's Quartet
This is a men's group that rehearses each Wednesday from 6:30-7:00. They sing each fifth Sunday and at other times of the year. They have given concerts and have sung in revival services at other churches.
Men's Choir
Whenever there is a month with five Sundays, we have a "y'all come" men's choir in the morning service on that fifth Sunday. The day begins with breakfast at 8:30, then continues with rehearsal at 9:00. The song is usually familiar, and always easily learned. At the offertory, the men leave the choir loft to sit with their families.